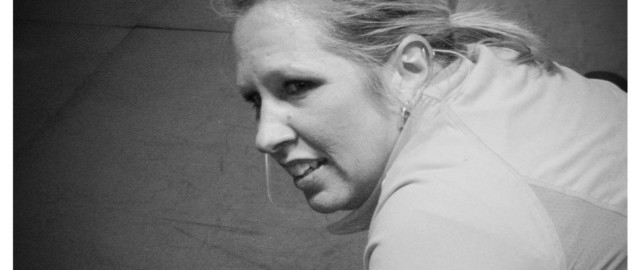 I thought that it would be fun to do a member feature from time to time. For our first feature I really wanted to feature an athlete that has been with us since "the beginning". That just means that she was with us when we were still in the garage weathering the heat and the cold. I sent her a list of question about a myriad of things both in and out of the gym.
Ladies and Gents, I'd like for you to meet:
Name– Salena G.
Age– (optional) 40
Occupation– Retail Management, Store Manager, Victoria's Secret
Hometown– Originally from East TN, currently reside in Chapel Hill, TN
Did you play sports growing up? Which?
I played basketball and softball in high school. I played college softball at Hiwassee College my freshmen and sophomore year and then played at Bristol University my junior year.
Hobbies outside of the gym-
I love to travel! My favorite place to visit is Chipiona, Spain where my mother-in-law currently lives. My husband and I love to take trips on our Harley, our longest ride was to Niagra Falls.
Favorite sports team or celeb?
I'm everything Tennessee! I love the Tennessee Vols, good years and bad! And I'm a huge Titans fan!
When did you start CrossFit? July, 2012
How did you find CF Combustion?
My husband, Brian Garza told me about it.
What made you think that CF might be for you before you started it?
I've been athletic all my life, but was never one to visit the gym, i would get so bored! In recent years I was really disappointed in the fact that I was not motivated to exercise. I love riding bikes, hiking, skiing, just about anything outdoors, but my busy schedule didn't always allow me to do something like that due to it all being so time consuming. So, Brian knew how I was feeling and he would come home from work and we would do workouts, very similar to CrossFit workouts which at the time I knew nothing about. Looking back now I realize that we were actually doing CrossFit! I loved it! One day he told me about the Boyd's, Matt and Greg, no kin, by the way, and how they were doing some CrossFit classes out of Greg's garage and suggested I try it thinking that I would really like it….he was wrong, I LOVED it! It gave me the same feelings I used to have playing college sports, those feelings of challenge, competitiveness, accomplishments!!!!
Where was the first place that you did a CF workout?My house, without even realizing it, and then Greg Boyd's garage.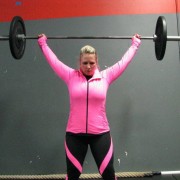 What changes have you seen?
I giggled when I read this question because I talk about this a lot! Physically…well, I wear more skirts and dresses to work after a few major leg workouts, my thighs look like they did in college, that's a plus! My arms don't bend the way they used to cause there's muscles in the way, wow, really? Mentally….I feel that I'm so stronger minded, I can accomplish anything because I just RX'd a CrossFit workout! The greatest feeling is working out with young guys that play high school football and they're trying to keep up with me, that happened one time 🙂
Favorite lift or movement? Least favorite?
I love cleans! I saw a e-card that read "I clean more at the box that I do at home", well, that's me! My least favorite USED to be the snatch until I realized that I disliked it because I just couldn't get it, but just like most CrossFit movements, they're your least favorite until you get it and then you just add it to the list of accomplishments and then it becomes a favorite. But, I guess the the air dyne, sorry Greg, I know he loves it, but I'll never like it….are those beasts considered a CrossFit movement? IDK!!!
What is your 1RM back squat? 170, 1 time! I was trying to hit 190! And, I will!!!!
How has CF changed your life outside of the gym?
I've said this already, but I'll say it again…I'm mentally stronger! I learned "warrior" ways of thinking, don't give up! I'm physically stronger. At Victoria's Secret we hire men for the holidays because of all the things we have to lift or move constantly, the girls at work said that we didn't need men this year because we had me! That was flattering! I hired them anyway so I could show off! Ha!
Favorite part of CFC specifically?
There's so many favorites, but I have to say that I love the people! Wow! I love hearing the stories of how CrossFit changed THEIR life! I have new best friends because of CFC! And, of course, the coaches! Everyone knows that they will get whatever support they need from either coach! There's never a dull/boring moment at CFC! My favorite moment….Greg wearing his NOMAD tshirt and being told that he can be NO-MAD at us for chatting too much because of the shirt he was wearing!
What would you say to a new CrossFitter or someone thinking about doing it?
Just do it! (sorry, Nike, I stole your comment!) I can relate more reasons why to do it rather that why not! I promote it a lot and frequently hear back from people that have asked about it that they have joined somewhere, great odds!
Final thoughts? (on anything)
CrossFit has changed my life! I had a close friend ask me just the other day "are you not bored with it yet?" she knows me so well, but the truth is….how could you get bored? The workouts are NEVER the same, maybe the same workout, but most always different results! PR's are like Grammy's! It's quick and super affective! Even I have time for it and I have very little time! I look forward to setting an alarm for something, even a 5:30am workout sometimes, that's impressive!!! I'll probably be CrossFitting at 70, just sayin'!